Wine and Women Remedy Feelings of the Sky Falling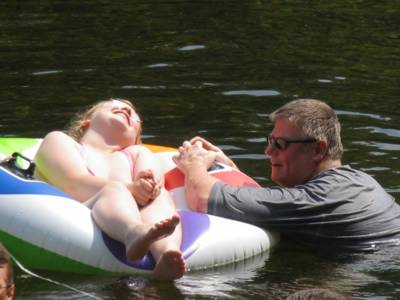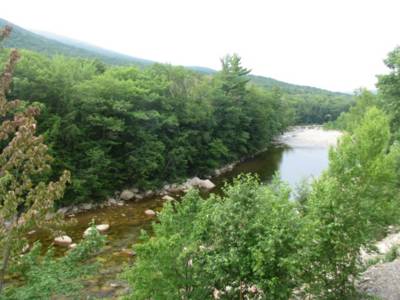 The fresh mountain air had a little to do with it, too.
You run around, figuring the way you figure things. You figure by all accounts that you're happy with what you got because you figure you've done your best. About a week before this little excursion to wilds of New Hampshire, my boss was remarking that the night before he had dinner over a friends house that is on the beach. This friend is a self-employed web designer and his wife has some non-specific good paying job. This friends work day consists of heading down to the beach with his laptop, working for a couple of hours (most of his clients are on the West Coast), then heading back to the house, making some phone calls, and then
back
to the beach for another couple of hours work. The workday then concludes. My boss said to him, "I know you gotta have bad days", and I'm thinking, "Yeah, like when it's not sunny". But hey, nice life if you can get that kinda work.
So Friday rolled around and the original plan was to start out incredibly early (the dog could not be dropped off at the kennel before 8AM, so that was zero hour) and make our way to Boston to pick up the key for the condo in New Hampshire.
That was the original plan.
8:20AM, I wake up. aaaarrrggghh. OK, no big whoop. Let's make this a more casual mode. Get the dog to the kennel. 9:30AM. Not a problem. Casual mode. Pick up ice, and wine for the cooler and New Hampshire and get back home. Nothings ready to be packed, In fact, laundry is just going in. Not a problem. Casual mode. Other various things prevent leaving until 2PM. Not a problem. Casual mode. We have a smooth speedy trip to Boston, pick up necessary key, are given directions for a less trafficked route, and we're back on the road by 6PM. We easily find the condo in the darkness of New Hampshire at 10PM. And here friends is where the continuous chanting of, "Not a problem. Casual mode." paid off. Stepping away from the air conditioned minivan, I could smell the woods. That is a very important concept to understand. At that moment, all bad things, things that suck, faded into the New Hampshire darkness.
We took our first load of bags up to the front door (my cousins condo is on the third floor) and entered a place we had never been before. The condo was magnificent. Later when we had time to explore, we wound up on the deck stargazing millions of stars you can't see when in a lit city, and listening to the roar of the river going by in the blackness. It was incredible.
The next morning as we ate breakfast on the deck, a hummingbird appeared and hovered for 5-10 seconds only about a foot away from us. This was too much.
My cousin (the owner) showed up at 10:30AM and suddenly it was Bloody Mary time! We ate, switched to wine, explored the river (the pictures above are my daughter and I in a section of the river pictured above us)and had a fabulous casual dinner in a restaurant less than two minutes from the condo. I was totally swept up in this environment. I forgot about absolutely everything.
We were supposed to leave Sunday morning, but we delayed and didn't return until Sunday night. And we didn't stay any longer because there were too many commitments to overcome.
I know with the gentlest of prodding I would drop everything and move there. Yes, I really would. It was that good.
Thank you my cousin for inviting us, and I love you.